---
St. John Paul II & Fatima: Justice & Peace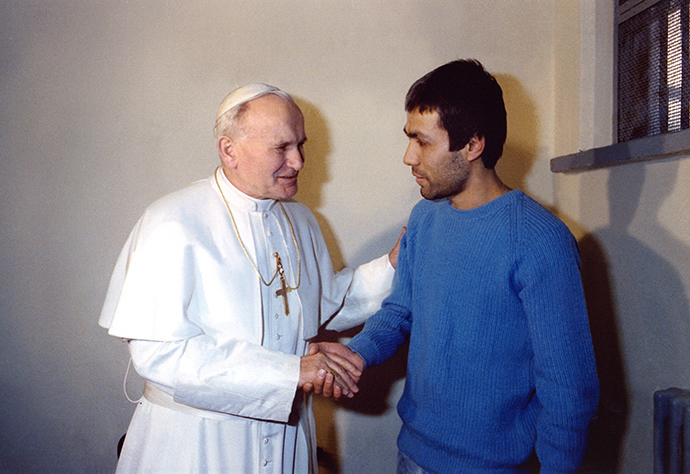 One of the primary missions of the St. John Paul II Society is to open the hearts of the men and women of our time to the grace that enabled the Sainted Holy Father to unite his sufferings with those of Jesus Christ for the whole Church. For St. John Paul II, the channel of this grace of redemptive suffering was his lifelong devotion to Our Lady, especially as she appeared at Fatima, Portugal in 1917.
Justice & Peace
Perhaps one of the most striking ways in which St. John Paul II "offered up" his sufferings in union with those of Christ was by forgiving the man who caused him so much pain: his shooter Mehmet Ali Ağca.
Ağca, a Turkish citizen and a Muslim, was an unstable character who claimed various contradictory motivations for the assassination attempt throughout his lifetime. While he was serving his sentence in Rome prior to his extradition to Turkey, the Holy Father visited him in prison. Like those who Christ forgave from the cross, it is unclear what the Pope's message meant to Ağca. Yet for the greater world, and especially for all Catholics, it was a sign of the limitless love of God for sinners.
It was also a witness of the Catholic Church's dedication to peace and understanding between Catholics and Muslims, a dedication that has deep connections to the miracles at Fatima. As Venerable Fulton Sheen put it, "I believe that the Blessed Virgin chose to be known as 'Our Lady of Fatima' as a pledge and a sign of hope to the Muslim people, and as an assurance that they, who show her so much respect, will one day accept her Divine Son, too." The town of Fatima itself is said to be named for a beautiful Muslim girl who converted to the Catholic faith after falling in love with a young Catholic man.
✠