---
St. John Paul II & Fatima: Honoring Our Lady of Fatima with St. John Paul II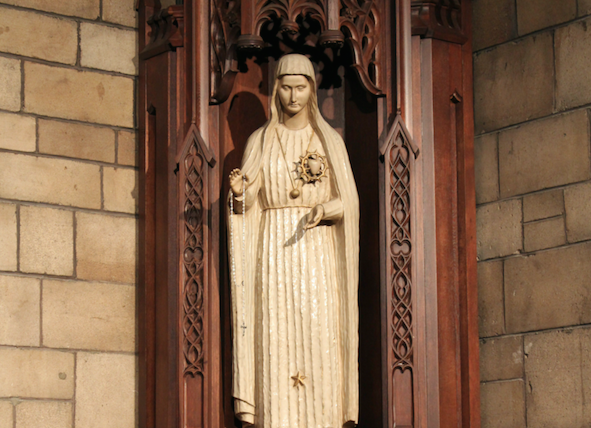 One of the primary missions of the St. John Paul II Society is to open the hearts of the men and women of our time to the grace that enabled the Sainted Holy Father to unite his sufferings with those of Jesus Christ for the whole Church. For St. John Paul II, the channel of this grace of redemptive suffering was his lifelong devotion to Our Lady, especially as she appeared at Fatima, Portugal in 1917.
Honoring Our Lady of Fatima with St. John Paul II
The St. John Paul II Society, under the guidance of the Dominican Friars, is in a unique position to bring ordinary men and women in contact with the graces St. John Paul II received through a lifetime of Marian devotion. Having been entrusted with a first class relic of the Sainted Holy Father by Rome – a bloodstained piece of the sash he wore during the assassination attempt – the Society is creating a shrine centered on the relationship of John Paul II and our Lady of Fatima.
The relic will be installed in the Church of St. Vincent Ferrer in New York City at the foot of a statue of Our Lady of Fatima sculpted by Fr. Thomas McGlynn, O.P., under the direction of Sr. Lucia – one of the three visionaries – and approved by the Bishop of Leiria to whom the guardianship of the Fatima apparitions was entrusted by Rome. More than simply a sculptor, Fr. McGlynn was the primary promoter of devotion to Fatima and consecration to the Immaculate Heart of Mary in the United States at a time when few Americans were aware of the Fatima message (learn about Fr. McGlynn's book, Vision of Fatima here.)
To further adorn the shrine, the St. John Paul II Society has commissioned an iconographer to depict scenes from the Sainted Holy Father's life, particularly the events surrounding the assassination attempt, and of saints related to Europe's struggle with totalitarianism such as Edith Stein and Maximilian Kolbe.
We invite you to join us for a Fatima Rosary, Dedication Mass, and Veneration of the first-class relic of St. John Paul II on May 13th, the 100th Anniversary feast of Our Lady of Fatima. Click here to learn more.